CONDYLOMATA ACUMINATA - CONDYLOME ACUMINÉ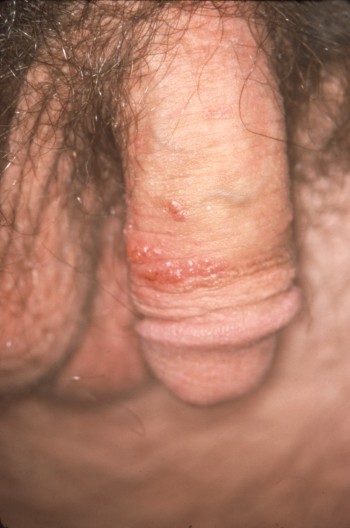 Courtesy CDC/Susan Lindsley (1976)
.en. This patient with Condylomata acuminata (condyloma acuminatum) presented with soft, wart-like growths on the penis ; 12 hrs post-podophyllin application.
Condylomata acuminata refers to an epidermal manifestation caused by epidermotropic human papilloma virus (HPV).
The most commonly affected areas by rthis sexually transmitted disease (STD) are the penis, vulva, vagina, cervix, perineum, and perianal area.
.fr. Patient avec un Condylome acuminé (condyloma acuminatum) présentant des excroissances molles d'apparence verruqueuses sur le pénis ; 12 heures après une application de podophylline.
Les condylomes acuminés font référence à une manifestation épidermique causée par le virus épidermotrope du papillome humain (HPV).
Les zones les plus touchées par cette maladie sexuellement transmissible (MST) sont le pénis, la vulve, le vagin, le col de l'utérus, le périnée et les régions périanales.